My great Uncle Stan joined the First World War at age 17 ½ on February 9, 1916. I imagine that he came home from the office in New Westminster and proudly informed his parents that he was going overseas to join the Canadian Over-Seas Expeditionary Force. Doesn't that sound so wonderful? He was going on an expedition!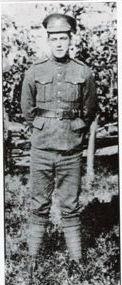 At 17 ½, did he really understand the journey he was about to begin? I have 3 boys and I can tell you that at 17, they really have no concept of war and feel that they are indestructible. My Great Uncle Stan probably thought he was heading out for a great adventure. Little did he know how things would end! A young man's heart excited!
I imagine that my Great Great Grandmother, Florence, watching from her orchard farmhouse porch her son leaving. Not knowing that is would be the last time she would see him, tears pouring from her eyes as she choked back the sobs in order to give her son a final wave and smile. I picture that as soon as he was out of sight, she fell into the porch rocking chair with chest heaving and wept for her son. A mother's heart terrified.
I imagine my Great Great Grandfather, William, escorting him to the train or bus station with a stiff, upper lip and a brave face. I imagine him filled with a mixture of pride, fear and a determination to release him into service with grace and with dignity. I can picture that as they arrive at the train or bus station, my Great Great Grandfather, gave his son a clap on the back, a short hug and saying, "God bless you and keep you safe son, your Mom and I will be waiting for your safe return". As my Great Great Grandfather watches the train or bus leave, he would stand tall straight and proud. I picture as soon as the vehicle is out of sight, my Great Great Grandfather slumps over, head in hands with shoulders shaking and weeps quietly while praying. A father's heart breaks.
I imagine that my Great Uncle Ernest, his little brother was excited and bragged about his big brother going to war. I see that he fully believed that his big brother was off for an adventure and maybe even felt jealous that he couldn't go. I visualize that he stood with his Mom on the front porch to say goodbye and told them, "As soon as I am old enough, I will join you Stan!" "I can't wait to hear your stories when you get home!" At the back of his mind and the corners of his soul, I feel that my Great Uncle Ernie was nervous and frightened for his big brother. A brother's heart trembles.
Then the fateful day, 14 months after Uncle Stan left home, the telegram comes to the house. Private Stanley Tyers was killed in action on Vimy Ridge on April 9, 1917. The stark, harsh, heart stopping words that no parent should ever see. I wonder how long it took them to find out? How long did it take the 2nd Canadian Mounted Rifles, BC Regiment to find his lifeless body and send the report? A family's heart mourns.
My Great Uncle Stan lies now at Thelis Cemetery in France. He is at peace with His Lord and Saviour. I don't want to think about the horrors he experienced. As a family, we have few things to remember him by, only three medals, military papers, three precious photographs and a picture that he painted entitled "The Lord Be With You". As we commemorate Vimy Ridge day and our fallen heroes, let us remember!
Every soldier had a Mom, Dad and a family that was forever changed due to their sacrifice. These young men gave their lives for our freedom. This past Remembrance Day services in Langley, I joined the crowds and shivered as we honoured our heroes. I stood with my family with tears in my eyes and promised to my Great Uncle Stan, that my family will always remember. It is personal.